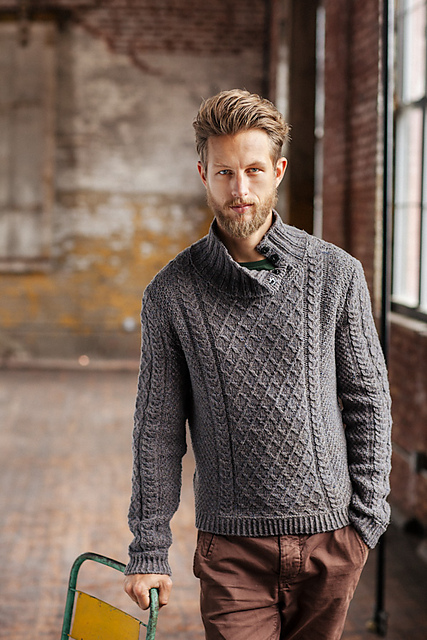 I am hopelessly smitten with this sweater! I mean, I did blow this photo up to full, original size for my blog.
the boy: my oh-so-sweet golden brother, who happens to enjoy wool sweaters and stylish togs. I'm the oldest sibling, he's the youngest. Yeah, I kind of like this kid.
the pattern: Hugo by Veronik Avery, from BT: Men
the wool: I chose Mountain Meadow Wool's Laramie in Dark Gray. It's a lovely substitute for Brooklyn Tweed's Shelter. You really can't get a closer match for color! Dark Gray is nearly identical to Stormcloud. The big differences are
-Shelter has tiny tweed flecks of steel blue and cream; Laramie has no flecks.
-Laramie has no dye lot; Shelter has a dye lot.
Another difference is how the yarns react after knitting. My unblocked swatch of Laramie measured 4.5" w by 4.75" tall. After resting a few days, it had reduced to 4" w. This tells me Laramie has a lot of elasticity and energy. Most importantly, the stitch count was spot on after resting. My friend is using the suggested Shelter in Stormcloud. Her yarn did not shrink after it rested, nor did it have quite the same elasticity or plushness Laramie. SO...as always, swatch it, baby.
With that said, I probably should have blocked my swatch to see what it did to the yarn. I decided to be risky and just knit the thing! Knowing the yarn is so give-and-take, I felt good about my decision to use all three needle sizes as directed.
the needles: Dreamz and Symfonie Rose. They're basically the same thing, just a different cable and needle color.
This design has you use 3 sequential needle sizes, US 5, US 6, and US 7. Size 5 is for the twisted rib, 6 for the low back/waist portions, and 7 for the rest. The instructions are to use the size 6 if chest and waist measurements are several inches apart, thus reducing bagginess and excess material in the waist/high hip area. I think it's brilliant, since guys don't need waist shaping, but inevitably get the baggy sweater effect with fabric pooling around their stomachs.. Even though my brother's waist is only 3" smaller than his chest, I know he prefers a more fitted sweater. so I chose to use all needle sizes are originally directed.
the modifications: It may not be massively apparent, but I have quite the independent streak. Instructions for Tubular Cast-On read to use a lighter weight yarn for the waste yarn. I didn't. I used Laramie in Light Gray. AND I'm going to repeat it for Tubular Cast-On, as well as using it for the garter stitch placket on the turtleneck. Here's why.
My brother has a strong sense of American Boy-Next-Door, very Matt Damon-Joseph Gordon Levitt. Someone with that aesthetic style needs garments with graphic pop, whether that's strong color contrasts, bold graphic tees, or fun and unusual patterns. By using a high contrast monochromatic yarn for the cast-on, I'll achieve the necessary graphic edge (no pun intended) I'm looking for.
the progress: as of publication, I'm nearly finished with the back. I shall post photos as I finish each piece, and most definitely a full spread of photos after I seam and block this beautiful piece of cabled woolen eye candy.